The market and your customer is changing. Your company is changing. Now is the time to develop your plan for the "next normal". There is opportunity for organizations like yours. It is a matter of understanding the market, the customer, the needs, the changes in delivery and communication.
Let's start with a SWOT analysis to understand the situation more fully and unpack the opportunities and threats.
This two-session, 1-on-1 coaching program will walk you through the Marketing SWOT process and prime you to move forward with a fresh marketing plan.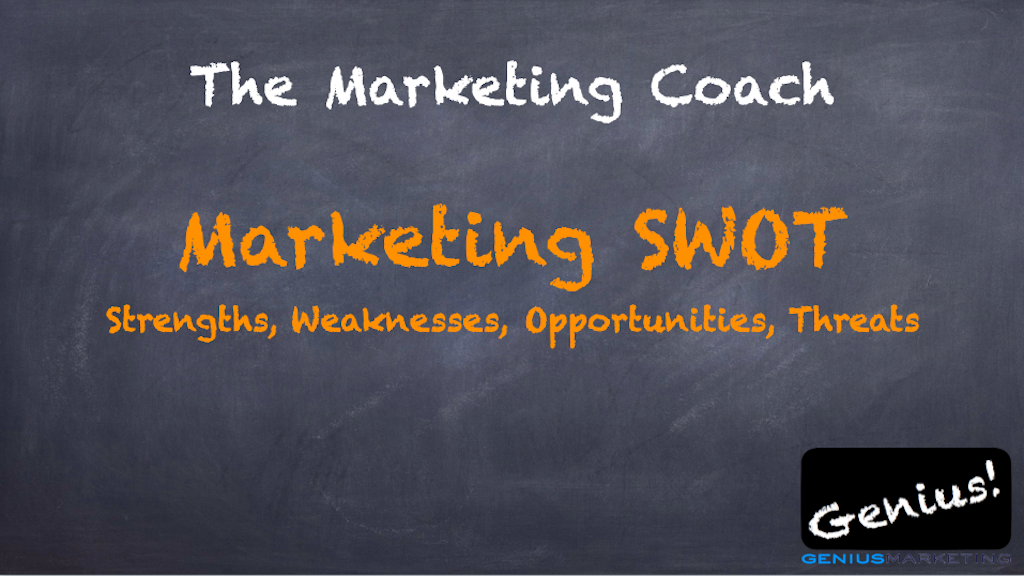 The Marketing SWOT program is held via Zoom and includes all materials, two coaching sessions and email support between the coaching sessions. There is assessment "homework" about your company's marketing to prepare for each coaching session.
The cost for the Marketing SWOT program is $650.
I'm Stephen Eckert of Genius! Marketing
Sometimes known as "The Marketing Coach", I help business owners get the most out of your marketing. I developed a step-by-step system to help small businesses organize, optimize and operationalize marketing.
My clients care about how their company is perceived in the marketplace. But they don't have the time to directly manage marketing. In fact, they have multiple vendors and in-house staff working on various marketing, digital, PR and advertising projects. Too often marketing is start/stop. No consistency. It drives my clients crazy that marketing isn't working. They need an experienced leader they can trust to help them get marketing results.
Take the time to work through your marketing strengths, weaknesses, opportunities and threats. This course will include a self-assessment prior to the first of two coaching sessions.
The result of the coaching will be actionable ways to improve your organization's marketing by finding new ways to engage your current and future customers, understanding gaps in your current plan, and more. Submit your inquiry to get started!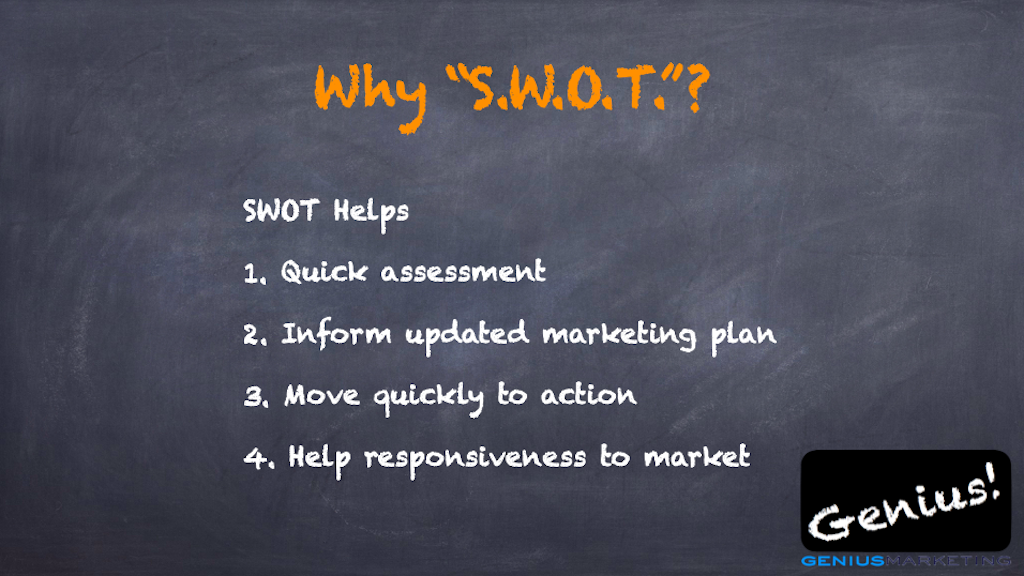 Thanks for submitting your information! Please continue with the checkout process.
Frequently Asked Questions
What does the SWOT coaching program cost?
When you submit the inquiry form (above) you will be taken to the payment page. The cost for the materials and two coaching sessions is $650.
How do I schedule my coaching appointment?
Upon purchasing the coaching, you'll receive further instructions on how to book a time for your appointment. You will then receive an email with the initial materials needed for the first coaching session.
Can I get a refund if I'm unhappy with my purchase?
If you are dissatisfied with your coaching, talk to your coach! He/she will work with you and can discuss if your purchase is eligible for a refund. Due to the consultative nature of coaching, refunds will only be available for portions of the program not yet delivered.
As stated in Teachable's Terms of Use, Coaching IS NOT covered by Teachable's 30-day student refund policy. As such, we highly recommend that you add your own refund policy here.
Is other marketing coaching available?
Yes! Marketing budgeting and full marketing planning coaching is available as well as individual coaching on other marketing subjects. Inquire by emailing us.